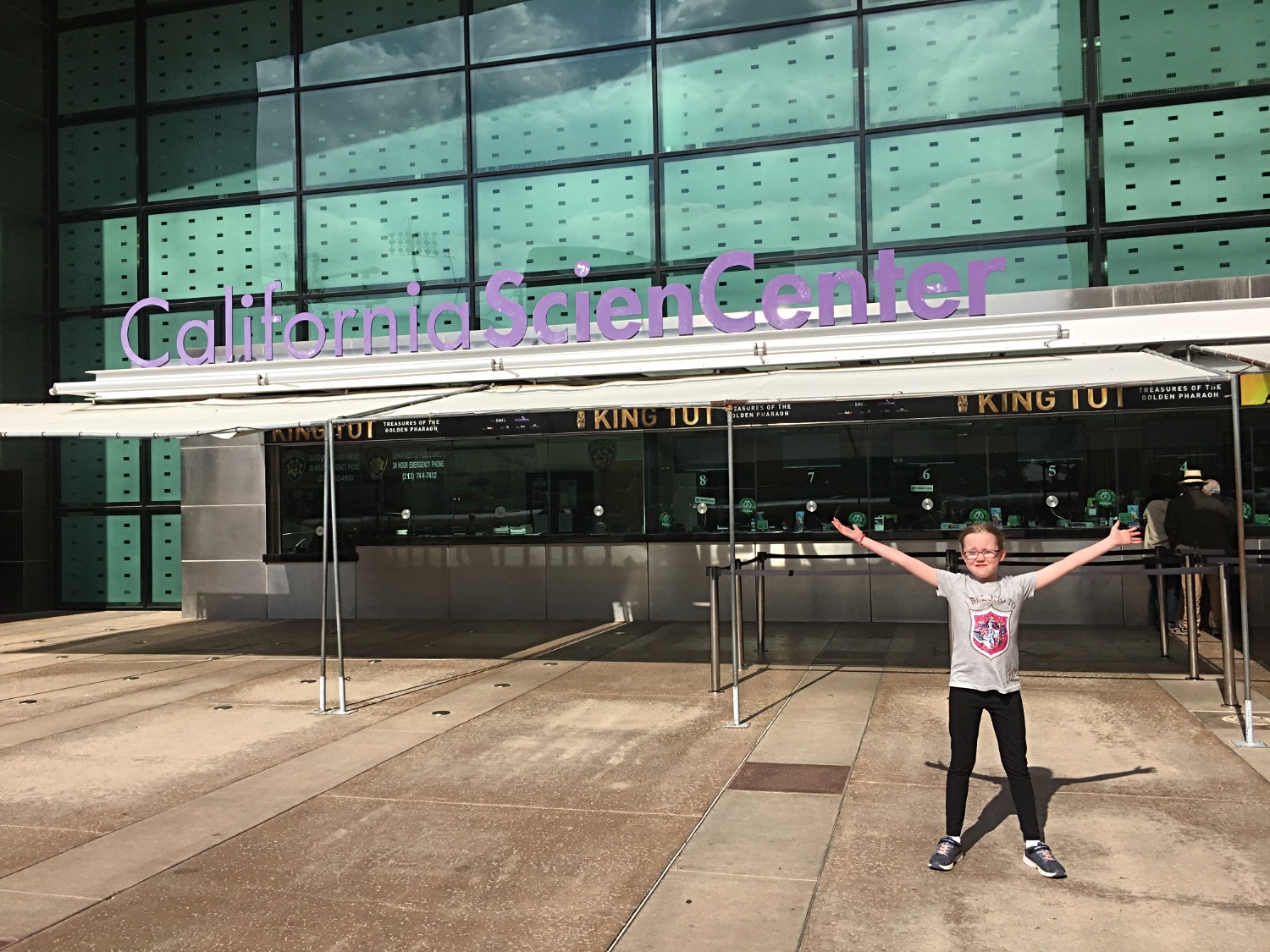 My last stop before returning back to Ireland earlier this month was at the California Science Centre in Los Angeles. This was all part of the amazing trip I had with my family in California that also included a trip to the Jet Propulsion Laboratory and also to the San Diego Air and Space Museum.  Make sure you read all about those days out too!
We had packed our rental apartment up that was in San Diego and drove the two and a half hours from there to Los Angeles but our flight wasn't until the evening. My Dad had read that the centre wasn't very far away from the airport and surprised me with this place!  We arrived just after lunch time and as we were there during the school week in America, it wasn't very busy.  We knew the Space Shuttle Endeavour could be found here but beyond that we weren't sure what to expect.  This large building had a lot to show us!
When we first got in to the centre we headed straight to the Space area – there are a few exhibits that you can visit at the centre including a Tutankhamun Exhibition as well.
The first thing we saw was a lot of Command Modules!  It was amazing to walk in and see them all!  See the images of the Mercury-Redstone 2 Module and read all about what it had done.  It was originally launched two weeks after my birthday 57 years ago! (Back in 1961)
This ACTUAL capsule above had a chimpanzee called Ham in it and he did the first short flight into space and returned back to Earth.  Only 3 months later Alan Shepard became the first man to ever fly in space in a similar capsule.
I love this picture of me in front of the Apollo Soyuz Command Module. It gives you some idea of the size of it. This was once a light metal colour and now you can see the damage to the outside after going through the atmosphere.
We also saw the Gemini 11 Space Capsule– this launched in September 1966 with 2 crew Charles Conrad Jr and Richard Gordon Jr. This flew for 2 days, 23 hours, 17 minutes on 44 orbits!
We also saw this Heatshield from the Gemini 11.  It is made of fibreglass and resin.  As it came through the atmosphere the outer surface burned away into a gas and what you see here is a carbon residue left over.  The marking on it shows that it doesn't come back centered in the middle – it came back at an angle.
There was the Viking Lander, Astronaut spacesuits from Apollo missions there and so much more, this could easily become a photo journal!  What really got me excited was seeing the capsules and thinking what it would be like to live and work in there with others.  Also seeing the heat shield like this really shows you how much the area gets hit by re-entry.
Space Shuttle Endeavour ExhibitionThis was in two parts.  There was an area where we could watch a video of both the shuttle and the external tank arriving separately to the centre which was well worth watching and then a main exhibit area where you could see the inside activities that they performed.  Like what food they ate onboard, how they used the toilet and where they slept!
They also had the actual tyres (tires) from the space shuttle there that you could touch.  They were a lot smaller than I thought they would be!  I'm not sure how many flights the tyres would have had but I did expect them to be larger and wider.
We also had a go on a virtual journey of the space shuttle which I have never done before and I am so glad I had a go. You could feel all the shaking as you "flew" up and it even made you feel like you were "weightless".  I can definitely recommend it!
We then walked outside to the separate area where you can find the actual space shuttle.  I did find it a little hard to find as it had so many signs up everywhere but it was amazing when we actually arrived.
When we got outside you have to open a door without a window in it and it was actually pretty quiet when I got there as it was a school day and it was during the week.  I just went "WOW" really loudly, so did each person and group that followed.  The video below really doesn't show you how big this is but I wanted to try!
A great, close view of the underside of the Space Shuttle Endeavour Around the bottom of the shuttle is a really, really long timeline of events that have happened with the space programme and we were all really surprised (Mum and Dad too) how often there was a space flight going up.  They weren't always with people going up in them, but it was very often in the early years.  They also mentioned some of the military ones but not what they were doing of course.
There is a really, really large shop right underneath the front end (nose) of the shuttle that you can buy mementoes and clothes but unfortunately we had packed everything and couldn't add anything which was a shame.
Just outside this shop is the outside area for the External Tank the last of its kind on the planet! Check the link on this line to learn more about it. It is MASSIVE! We couldn't get a photo or me and it fitting in the same area!
I can honestly say this was a fantastic end to my amazing trip to California.  I am so glad I could share it with my family and we could meet all these amazing people who have guided us through these places of interest.
Who knows what next year (2019) will bring but I will never forget what this experience has been for me and I hope you have enjoyed learning about these places with me too.
Make sure you tell your friends about my blog and ask them to subscribe!  Please share this blog post to your social media so we can let as many people know!  Thank you 🙂