I have been going to Summer Camps for a while now but this is the first time I have heard of Designer Minds.  it was perfectly suited for me this year!  As far as I can tell it's the first time they have traveled to Westmeath.
This camp gives you Science, Technology, Engineering, Arts and Maths.  It starts at 9am and finishes at 1pm.  In this blog post I just wanted to give you an overview of what I did over the five days:
MONDAY
It was my first visit to this location in Mullingar at the IDA Park and it was called the Mullingar Charity Variety Group.  We all signed in and started writing out our name badges. Then we were paired up and I was sat with Sophie.
Animation
The first activity for that day was making animations with Lego pieces. Our team was given one  Lego figure and from that we started designing the animation and drew backgrounds.
Lunch was around 11:20am and I got to chat to a few more friends.  Shortly afterwards we started making the animation by taking a picture and then moving the Lego figure (we had as an actor).  We then took another picture, moved it again and doing that over and over. We ended up asking for another figure to make the story work.
The animation Sophie and I made was about a guy called Rob, who could turn into an evil cyborg named Bobbert.  Our second Lego figure was called Super Boy (Super Mans younger brother) and Super Baby (Super Mans younger sister).  We found a discarded head and used a single block for a body. It's a bit long but I can tell you, there was an epic fight scene! Bobbert was thrown into space and Super Baby dies and is brought again back to life.
Making Bacteria
After we finished we were taken to a separate room and the organiser / teacher explained that we were going to start growing bacteria!
We did this by taking a cotton bud, dipping it in water, then rubbing it on a surface.  I rubbed mine on a table, others used the back of their hands and some more used the window sill or the walls!  I then rubbed my cotton bud on the DIRTY side of an Agar plate.  We had already marked DIRTY on one side and CLEAN on the other.  We did the same for the other side except this time we wiped it on a anti-bacterial wipe. At the end of the week we had to bring it back in from home to show everyone how it looked.
TUESDAY
Coding
We split up into two groups  this day and my group did coding on LightBot, while the other group did some engineering with "LittleBits" – see more on Wednesday.  Basically you have to program a little robot in the game to walk around the board lighting little blue squares.  Please click the link above, it's a whole lot harder than it sounds!
After lunch we did some more coding but this time with a REAL robot. Each robot was named after a fruit. The one I used was called Papaya.  There was also other ones called Starfruit, Banana, stuff like that. We had ten minutes to mess around with them to make them do whatever and then we had to program them to do different challenges.
Later we had to design a hat for the robots and make the robots move through an extremely funnily shaped catwalk. My partner (for this activity was) Kristina and I decided on a nature theme for the hat with trees, plants, water falls, different colour grasses, etc, etc. I thought it looked great but we muddled up the instructions and Papaya crashed and its hat broke off and into tiny pieces. Oops!  Better luck next year I guess.
I honestly found LightBot a little hard (I barely made it to Level 3) but other people seemed to fly through it.
WEDNESDAY
Engineering
That day we did some engineering. We were paired up again (I was with Owen) and we had to design Lego cars to fit a motor and battery inside for a race. Owen and I decided we would make the car as aerodynamic as possible so we tried to use little weight.  We evened out as much as possible what weight we did have, things like that.  Owen was really good and we worked really well as a team.  There was a big race after and our car came second!
After all the excitement we started working with LittleBits which were coding pieces. For this we had to design a building and use the LittleBits as part of it. Each team were a handed out different LittleBits and given boxes of Lego and we were set to work.
Owen and I built a cute little house with an automatic porch light so that when you 'walked' up to the porch the light turned on.
THURSDAY
DNA and Chromatography
First thing in the morning we took some DNA from a banana. The Teacher warned us to listen carefully to the instructions otherwise the experiment wouldn't work! Myself and my partner had worked hard and listened to the instructions but I guess we must have made a mistake because the experiment came out negative!
At the end we put the DNA into a capsule and made it into a necklace. Unfortunately we didn't have any DNA but someone else had too much so we got some from them.
Later we designed Chromatography T- shirts using permanent markers and Isopropyl Alcohol. We drew a pattern using the markers and then used a couple of drops of the alcohol to make the ink spread out. I think my shirt looks pretty cool, honestly.
We also did a different type of Chromatography but this time with felt tips and water. For this we got a paper plate, drew a ring around the bottom of it, folded it up a few times then dipped it into water. We left it to soak for a bit by going outside and doing a nice old-fashioned "coke and mentos" trick. Then we came upstairs, took the plates out, unfolded them, and left them to dry.
FRIDAY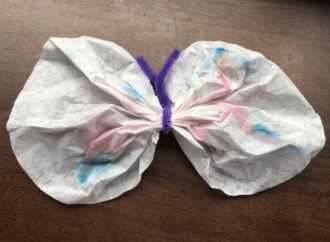 On the last day we first all took our plates and turned them into butterflies. Then we separated into four different stations.
A Minecraft station
A Lego station
A Photo Editing station
A Microscope station
Minecraft
In the Minecraft station we were allowed to build anything we wanted on a flat world.  I built three completely random things in about 45 minutes.  One was like a "boat-skating" thing, another was funny looking house with two dragon heads that opened and closed and finally a weird machine that moved glowing blocks around using pistons (??).
Lego
In the Lego station we could, again, we could build anything we wanted.  This time I went eco friendly and built a funny shaped tree, icebergs and icicles and a desert and ocean.
Photo Editing
Then on the photo editing station we had to make images bigger, clearer, smaller and also harder stuff like removing the chocolate from a boys face, rotating images, other stuff like that.
Microscope
At the microscope station we looked at things on prepared slides.  For instance we looked at Dragonfly wings, portion of oesophagus, liver, small intestine.  There was also Pine stem and pine leaves to to look at and finally apigeon feather.
At the end of the day we got our certificates and they took a picture of all of us.  I'm not sure where it's going to go up but will share when I see it!
It's been an amazing week and I'm definitely going back next year. Maybe you should go and give it a try? And if you do tell them that Ciaras Journey sent you!  See you soon.